Business Continuity Planning
Thorough data backup and disaster recovery planning for businesses in and around Wilmington, Leland, and Hampstead
Do you worry that your data backup plan might be unreliable, obsolete, or inefficient in the event of a disaster? You can't predict the future, but you can protect your business with the right disaster recovery plan in place.
Computer Connections, Inc. offers comprehensive solutions to data backup, computer hard drive backup, and complete hardware and system recovery - so you can stop worrying about the security of your Wilmington, Leland, and Hampstead business.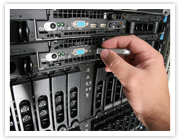 When you partner with Computer Connections for Business Continuity Planning and Disaster Recovery, you can:
End your fears about the impact of natural and man-made disasters you can't control - we provide every aspect of protection for your business with comprehensive computer data back up
Quit depending on a backup system that is outdated and unreliable - with an automatic backup system that is continual, reliable, and safe
Manage risk due to potential liabilities - safely protect all your valuable customer data
Be back to business in a flash - if a disaster occurs, you'll be up and running again fast
Protect your entire company from threats - we protect your data, email, systems, and more for a rapid recovery you can count on

With a reliable Business Continuity Planning with full backup and recovery solutions for your business, you can say goodbye to the constant worry that comes with running a business.
Computer Connections offers specialized business continuity and disaster recovery solutions, tailor-made to meet the needs of your business. We provide excellence in data backup and computer hard drive backup in Wilmington, Leland, Hampstead, Wallace, Burgaw and Shallotte, enabling your business to do what it does best.
In case your business needs remote data backup, disaster recovery solutions, online file storage, file recovery, secure offsite data backup, business continuity solutions, or offsite data backup & recovery services, we can help.
An ounce of prevention is worth a pound of cure - especially where you valuable data is concerned. Let us show you how a reliable business continuity planning and disaster recovery solution can protect you from what's out there.