IT Consulting
Practical IT Outsourcing and IT Consulting for companies throughout Wilmington, Leland, and Hampstead
Does the hassle of dealing with your IT outweigh the benefits? IT Consulting services deliver reasonable solutions to the unique situation of your business and exactly what it requires in technology.
Computer Connections, Inc. provides strategic IT Outsourcing and Virtual CIO (Chief Information Officer) services that can help you achieve balance between the cost of your technology and its benefits to your Wilmington, Leland, and Hampstead business.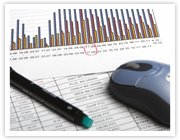 Your IT Consulting plan from Computer Connections includes:
Technology Planning - our consultants pinpoint areas of weakness in your technology infrastructure and design a tailor-made solution for your unique business.
IT Establishment - decisive planning and vendor partnerships allow us to provide the right IT solution for you and your company to create an advanced technology solution for today and tomorrow.
Technology - we make sensible recommendations with an appropriate security plan to create a line of defense against the adverse effects of disaster.

Our experts work in tandem with your business, bringing comprehensive solutions for your company's unique IT strategy.
Computer Connections provides Virtual CIO solutions that let you see your technology as an asset, instead of a liability. Serving Wilmington, Leland, Hampstead, Wallace, Burgaw and Shallotte, we provide IT Consulting Services that let you begin to think of your business technology as an investment, rather than an expense.
Whether your business is in need of IT outsourcing, IT consulting services, outsourced IT, technical consulting services, small business server consulting, network consulting, computer security consultants, Virtual CIO (Chief Information Officer) service, or computer consultancy for small businesses, we've got the solution.
We advance solutions in your IT strategy with our deep understanding of both business and technology. The knowledge of a seasoned IT Consultant can be the catalyst for accelerated growth in your business.