On Demand Services
Computer PC Repair and IT Help you can depend on in Wilmington, Leland, and Hampstead
Are problems with your technology and computers constantly getting in the way of running your business? When you depend on computer software help from our committed staff of experts, you can finally end anxiety over what to do should your technology break.
In cooperation with the experts at Computer Connections, Inc., who bring expert computer PC repair and IT help to your business Wilmington, Leland, and Hampstead, you are assured smooth and dependable solutions for all your technology.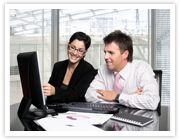 Stress-free IT Help and Support from Computer Connections ensure that you enjoy:
Your own team of experts to serve you - professional support when you need it
Payment flexibility - pay for the service you need, as you need it
Decreased downtime - get up and running again fast
Increased productivity and profitability - offer your customers more with advanced technology

On-Demand Small Business IT Support Services give you the confidence to enjoy your technology, knowing you're in good hands if something goes wrong.
Computer Connections knows you have clear priorities for your business, and stressing over technology is not one of them. Serving Wilmington, Leland, Hampstead, Wallace, Burgaw and Shallotte, our committed computer software help functions as the backbone of your business technology.
Whether your business is in need of IT help, online computer support, computer repair, computer diagnostics, software help, computer help, computer tech support, PC help, help fixing compute problems, or online/remote computer PC repair, we've got the solution.
Technology should help your business, not hinder it. If your business technology is making life harder than it should be, get the IT help you need to become worry-free.