Managed Services
Comprehensive IT support management and computer network maintenance for businesses throughout Wilmington, Leland, and Hampstead
Is your business suffering because you and your staff are constantly distracted by recurring technology issues? With IT Support from Computer Connections, Inc. you and your business can get on to bigger and better things.
Enjoy a good night's sleep knowing your business is functioning optimally with proactive IT management and IT support in Wilmington, Leland, and Hampstead.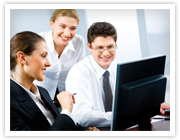 Managed IT Services from Computer Connections can help you achieve your goals with the ability to:
Get back to running your business - instead of wasting your resources stressing over technology
Get more accomplished - with the best in IT solutions to move you forward
Eliminate budgeting surprises - IT support with a flat monthly that fits your budget
Defend your precious resources - with world-class security for your data and network systems

Free yourself up to focus on what's important in your business as you turn over technology concerns to us.
Computer Connections strategically and proactively manages your network by providing IT support that prevents problems before they become major headaches. Aligning with your current IT infrastructure, we strategize with you to bring cost-effective, custom-tailored IT management and computer network maintenance solutions that meet every aspect of your business needs.
If your business requires computer network and server support, professional network solutions, network configuration, wireless network design, computer network support, IT management services, IT support, computer network maintenance services, or technology consulting, we're there when you need us.
Our dedicated professionals help you optimize your IT investment, reduce technology-related stress, and bring your focus back to your core business. Partner with us to deliver world class computer network maintenance, and watch your business success unfold.